11. Jesus Is King (2019)
Kanye's latest solo album is not terrible by any means but, Jesus Is King lacks the depth and complexity which many of his other records have to offer.
10. Watch The Throne (2011)
Kanye's star-studded collaboration with his mentor, and best friend Jay-Z contains a handful of bangers, but Watch The Throne is weakened by its lackluster second half, which includes some of Ye's worst songs to date.
9. Graduation (2007)
The final installment of the education trilogy, Graduation, hasn't been treated kindly by father time as Kanye's electric hip hop fused production sounds outdated.
8. ye (2018)
Ye, Kanye's most personal album covers various topics such as his troubled mental state, marriage issues, and many other troubles going on in the raw mind of West.
7. 808s & Heartbreaks (2008)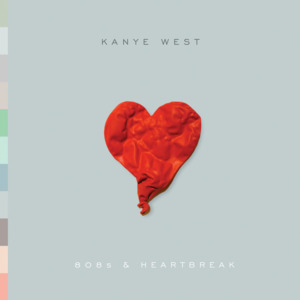 In the midst of one of the most mournful times of his life, Kanye flipped the music world on its head as he implemented 808 drums and saddening melodic singing into 808s & Heartbreaks.
6. KIDS SEE GHOSTS (2018)
Teaming up with long time collaborator Kid Cudi, KIDS SEE GHOSTS enabled the pair to express all of the downfalls they had endured in the past few years and ultimately how they were able to turn their failures to triumphs.
5. Yeezus (2013)
For sure, the most experimental of his albums, Yeezus was inspired by the idea of blending Kanye's signature sample style with a darker heavy industrial sound, making it his most polarizing effort to date.
4. The College Dropout (2004)
Over his one of a kind sped-up soul sample beats, The College Dropout shows Kanye at his hungriest as he dives into his tragedies and triumphs, which brought him to stardom.
3. The Life Of Pablo (2016)
When the entire world was breathing down his back, Kanye gave fans The Life Of Pablo, which expresses Ye's feelings on his two-faced family, public image, the corrupt media, and many other issues boiling over in his personal and public lives.
2. Late Registation (2005)
Kanye's second album, Late Registration, is the perfect sequel album as it improves on everything its predecessor did with its more intricately written lyrics and grander production, resulting in practically no filler tracks.
1. My Beautiful Dark Twisted Fantasy (2010)
Kanye's magnum opus, My Beautiful Dark Twisted Fantasy showcases his rapping, production and artistic ability all at their peaks as he engulfs the listener with diverse production and a cohesive narrative.
Verdict:
Kanye's discography is truly unmatched in the world of hip hop. No other artist has a blend of quality and diversity like Ye. He has implemented many genres of music, such as soul, funk, gospel, industrial, rock, and countless others. Due to Kanye West's stellar discography and artistic ability, he should be immortalized in everyone's top 5!